Household Shifting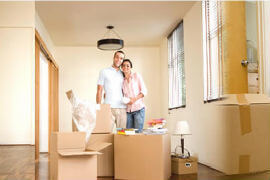 Moving from one location to other is not a big deal in today's globalised environment. With more and more companies opening their branches in the major cities, shifting and relocating has become a trend. However, packing all your stuff and shifting it from one place to other requires a systematic approach, experienced mind and careful planning. We at Angel packers and movers bring in a rich eight years of experience in packing and relocating your stuff from one place to other.
Household shifting usually involves packing of the entire household things in a proper and safe manner, arranging a transport for them, unloading the goods at the destination, unpacking them and rearranging them at the new house. It might appear an easy task but frankly speaking when you start moving bigger items like refrigerator, bed, air conditioner etc. you find it difficult. That is why hiring an expert would be the best option given that you want a hassle free relocation of your household items.
At Angel Packers and Movers, your satisfaction is our core responsibility. And to ensure that we have a workforce of trained and dextrous individuals who know exactly what you need to shift your household stuff. Whether it is your sofa set or a small mixer grinder, we can take care of all your packing and moving woes. You can simply sit back and relax as our specially trained team pack your stuff safely and with utmost care into appropriate packaging boxes and packaging material of highest quality. Proper packaging can ensure that your stuffs, especially the fragile ones are being transferred safely from one place to another without attracting any sort of damage. If that is not enough, we provide insurance coverage to all our consignment so that even if some unforeseen situation arises and your consignment is damaged, you are provided with the compensation of the loss.
If in case you are thinking that hiring a packers and movers will cost you a fortune, we at angel packers and movers assure you that you would find our quote cheap when compared to the usual industry standards. This implies that you shall be getting the best quality services at the minimum possible rate.
If in case you want us to pack and move only certain items and you do the remaining of the job, we offer partial packing as well. However in this case you should inform us at the beginning of the contract. You might want to take packaging material from us at an affordable cost or can bring it on your own.
This is how the entire service package at Angel Packers and Movers is created:

Understanding your relocation requirement
This will involve how many items you want to relocate and where exactly you want to go. Depending upon the number (or weight) of items and distance we shall be preparing the quotation for you.
Packaging your household things
Next step shall involve arranging the packaging material and safely packing all your stuff into appropriate boxes and cartons.
Arranging the transport
Once all big and small items of your household are properly packed, they will be loaded on the arranged transport and shall be set on the move. If you are relocating overseas it will be transported through appropriate transport medium.
Unloading and unpacking at the destination
Once your consignment has arrived at the destination house, we shall provide full assistance in unloading and unpacking all your transported items. If you want we can help them to arrange them in the new house for you, while you sit back and sip your coffee.