Office & Corporate Relocation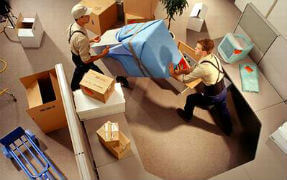 A good and profitable location is as important to a business as food is to the human being. That is why businessmen relocate their offices to new premises. Relocating an entire office to a new place can be quite a tedious task. You not only need to move important documents and files but also take care of relocating small things like stapler pins to heavy machines like document copier. That is why if you don't plan it in a proper manner you might lose on important things behind that might have serious consequences on your business later. We at angel packers and movers understand what office relocation means to you and how important it is to smoothly shift the entire office.
Why choose angels packers and movers for shifting your office.
Extensive experience
We have an extensive experience in providing corporate relocating services. No matter what is the size of your office, we have been doing this for past couple of years. This experience makes sure that you get an unmatched and smooth services and the entire process of relocating is trouble free for you. We have a great experience in shifting all kind of offices, whether it is retail store, government office, educational institute, hotels etc.
Skilled workforce
The entire workforce is trained to perform the entire relocating smoothly. We constantly hold training to train our men for the latest trend and advancement in the industry. This is reflected in the quality of service we offer.
Transit insurance
We provide transit insurance for the entire consignment. This is just to make sure that if any unforeseen circumstances arise you do not lose on your valuable office assets.
Warehousing facility
We also provide warehousing services just in case you need one. This is to ensure that your office assets are safe with us.
Optimum pricing
Our corporate relocating services are reasonably priced. Thus you need not to worry about having a big hole in your pocket. We provide a rough estimate beforehand so that you are certain about how much you will be paying to us once the entire relocation process is completed.
How we assist you in relocating your office
Understanding your relocation requirement
We begin by understating your relocation requirement. This includes where you want to move and how much stuff you want to move. Because we understand that your business is important, we are open to shift your office late in night or on weekends so that there is a minimum impact on the working of your business.
Preparation of a quotation
Once we have understood your relocation requirement we prepare a rough quotation which provide an estimate of the cost of entire relocation process. The price we charge is quite competitive and transparent hence you need not to worry about any hidden charges being charged.
Packing the stuff appropriately
Once you have given us the approval, we pack all your office stuff in an appropriate manner. Special attention is being given while packing delicate items such as IT machines, copier etc. All important machines, documentations and files are packed in waterproof packing.
Transporting the packed boxes
We choose the fastest and safe transporting medium while moving your office stuff. This ensure that you get your office is shifted just in time and you don't lose on your valuable business.
Unloading and unpacking
UWe make sure that that entire process of relocation is not a problem for you hence once your consignment arrives; we help you with unloading and unpacking the entire consignment for you. Our skilled workforce helps you in the installation of all IT machines. We also help in installing things like file racks, tables etc. Thus we ensure that you settle in your new office without any sort of difficulties.