Vehicles Transportation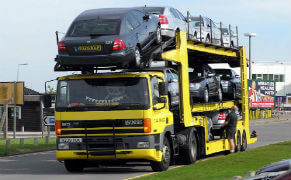 Engaging a dedicated vehicle transportation service provider has become very important these days not only for individuals but also for vehicle manufacturing companies. Since vehicles these days are not only expensive but also carry huge repairing costs. Packing and moving of vehicles has become very important as any type of damage or loss to the vehicle whether it is small or large it can cause a huge monetary loss to the owner of the vehicle. However, it may happen that even after all the preventive measures taken by the company during the transportation of a vehicle there is always a trivial possibility of the vehicle getting damaged or misplaced.
Vehicle Transportation is one of the leading parts of the services provided by Angel Packers & Movers that is provided to the variety of our clients. We attempt to present tailor made vehicle transportation services at rational expenses and guarantee that the vehicles are being transported without even a slight scratch.
Under our Vehicle Transportation Services, we at Angel Packers and Movers use a carrier truck specially designed for vehicle transportation which is usually named as Vehicle Carrier. This carrier truck is specially used for the transportation of vehicles like cars, motor bikes, scooters etc from one city to another city. This carrier truck is a closed vehicle carrier which has a mechanism of tyre locking system. This carrier not only assists in transportation of vehicles but also provide a quick, fast and safe transit of a vehicle at the desired destination. We generally pick up all the vehicles that are to be transported from the client's home, office or factory and deliver them on time on the client's desired destination location.
We as a vehicle transportation provider company offer to our clients a complete tracking system for the vehicles being transported. We value and try to meet pre designed schedules. We also frequently keep in touch with the drivers so as to make sure timely pickups and deliveries of the vehicles from and to their desired locations.
In case of transporting new vehicles from the manufacturer end to the respective brand showrooms of the manufacturing company, Angel Packers and Movers handle almost everything right from getting clearance from custom office to delivering the vehicles on the desired locations. Expert guidance and care is specially taken before loading a vehicle on the carrier truck till it is delivered on the right delivery locations. Our group would visit the client location well dressed in company uniforms and equipped with the necessary tools. We would also provide you a quotation depending on the project demands.
Angel Packers also provide the following services to our clients for vehicle transportation:
We offer assistance to our valuable clients by handling the customs. We look into the matters relating to customs by assisting our clients in getting the necessary papers ready for custom clearance, getting clearance from custom department, thereby saving the valuable time and cost to our client. We pick up the vehicles from client's doorstep or office as required by the client. We take complete care of indemnity cover on the vehicles being transported. We not only offer help to our client in getting insurance papers ready in case of any loss or damage done to the vehicle due to accident, fire or theft, but also assist our clients in assessing the full worth of their vehicles to be transported . We constantly keep in touch with our drivers who are carrying the vehicles so as to keep a track of the vehicles being transported and advise our clients accordingly. Expert guidance is taken to ensure safe transit of the vehicles before moving the carrier. Vehicles are properly and carefully checked for any possible leakage of fluids. Alarm systems or any antennas are either removed during transit or are retracted from the vehicles.
As methodical professionals who hold years of experience in the packing and moving industry, we consider in undertake a large number of factors into concern before achieving a vehicle transportation project irrespective of the size of vehicles to be transported. We take into account, not only the probable time to achieve the job effectively but also take into account other factors also like the size of carrier truck or other transport options needed for the completion of the job, number of helpers needed for the loading of the vehicles on to the carrier truck, distance that is to be covered during the transit of vehicles, distance between the parking area and the destination point, scale of complexity in assessing the net worth of their vehicles and a lot many more things are kept in consideration while transportation of the vehicles. These things help us in offering more capable and pleasing jobs that one can expect from an extremely prominent packers and movers service providers like us.